After four years of the Bruce Arians/Byron Leftwich offense in Tampa, the Bucs will have a new look this season with the arrival of longtime Seahawks assistant Dave Canales as a first-time offensive coordinator.
The offense will have substantial changes in personnel, of course, with quarterback Tom Brady retiring, and running back Leonard Fournette, left tackle Donovan Smith and tight end Cameron Brate among the team's cap-related cuts this month. Regardless of who is at quarterback (potentially third-year pro Kyle Trask), the Bucs will feature receivers Mike Evans and Chris Godwin, as well as second-year running back Rachaad White.
But if we're looking for hints at how the Bucs will actually look on offense — balance, tendencies, personnel groupings and such — we can learn a lot from comparing last year's Tampa Bay team to the offense Canales worked with in Seattle. It wasn't his scheme or playcalling, as that was former Rams assistant Shane Waldron for the past two years, but the Seahawks' success and basic philosophies will almost certainly be a framework for Canales' first offense in Tampa.
In some ways, the two offenses weren't far apart. By total yardage, they were separated by only 4.8 yards per game, with Seattle ranking 13th at 351.5 yards and the Bucs close behind at 15th, averaging 346.7. On third down, the two teams were even closer, with the Seahawks converting 37.8% on the season and the Bucs at 37.4%. Had Seattle missed on a single conversion over an entire season, the Bucs would be ahead.
At the same time, Seattle converted yards to points much more efficiently, ranking ninth in scoring (23.9 points per game) compared to 25th for the Bucs (18.4). Despite having one more turnover, Seattle's offense finished with 11 more touchdowns and three more field goals.
We'll explore other key differences between who the Bucs were last season, and who they might be under Canales.
Offensive balance
The Bucs were one of the NFL's least balanced teams on offense last year, ranking last in rushing (in yards per game and yards per carry) and ranking second in passing. This wasn't as much by design as a result of having Brady and two Pro Bowl receivers, an inability to run consistently and not nearly enough time with the comfortable leads that set up more rushing.
Seattle, meanwhile, had a good offensive balance, tying for 11th in passing yards behind Geno Smith's breakout Pro Bowl season and 18th in rushing, largely behind rookie Kenneth Walker III. If you look at run/pass splits over the past three years, the Bucs have the highest pass rate in the NFL at 72.5%, while the Seahawks have the ninth-lowest at 51.5%, as close to an actual perfect balance as any team in the league since the start of 2020.
Kenneth Walker III's first NFL start
Robert Smith and Chris Myers discuss the impact that rookie Kenneth Walker III had in the Seahawks' 19-9 victory over the Cardinals in Week 6.
Offensive efficiency
Seattle and Tampa Bay were comparable in total offensive yards last year, but the Seahawks were much more efficient. Seattle finished the year with 102 more total yards than the Bucs, and did so on 115 fewer plays.
A number of things contribute to that: Seattle averaged 4.8 yards per carry, compared to 3.4 for Tampa Bay. Seattle had 18 running plays go for 20 yards or more, while Tampa Bay had three all season. The Seahawks led the NFL with a 69.6% completion percentage, while the Bucs were a solid 66.4%, still in the top 10. Some of that was from a heavier reliance on screen passes for the Bucs — measuring the average depth of target on pass attempts, the Bucs ranked 29th at 6.8 yards, while the Seahawks ranked 18th at 7.6 yards.
A lack of downfield passing was a significant shift for the Bucs in 2022 — Tampa Bay and Seattle each had 50 pass plays of 20-plus yards last year, right in the middle of the NFL pack. Looking at the previous two years shows both how much the Bucs regressed and how steady the Seahawks were. Tampa Bay had an NFL-high 143 pass plays of 20-plus yards in 2020-21, while Seattle had 101, right on course with their 2022 production (despite the departure of quarterback Russell Wilson).
It's worth mentioning that high-leverage situations were a weak spot for Seattle this past season, worse than the Bucs in both red-zone efficiency and goal-to-go scenarios. The Bucs weren't great in either: 52% touchdowns (ranking 22nd) in the red zone and 72% in goal-to-go (ranking 15th), but that's still better than the Seahawks ranking 28th in red zone and ranking 19th in goal-to-go.
Personnel grouping
NFL offenses are described based on their combination of running backs, tight ends and receivers. In "11 personnel," there's one back, one tight end and three receivers, and that set was the most prevalent first-down look for every NFL team except the run-heavy Ravens. There's a sliding scale of dependence on that look — NFELOapp.com has the Rams in 11 personnel on 90% of first downs, and the Bucs were sixth with 66% in that three-receiver look, compared to 26% in the double-TE "12 personnel" set.
Seattle was fairly unique in a prominent usage of tight ends. The Seahawks were in 11 personnel on 41%, in 12 personnel (with two tight ends) a league-high 40%, and their use of 13 personnel (with three tight ends) was second-highest in the NFL at 13% (compared to only 4% for the Bucs).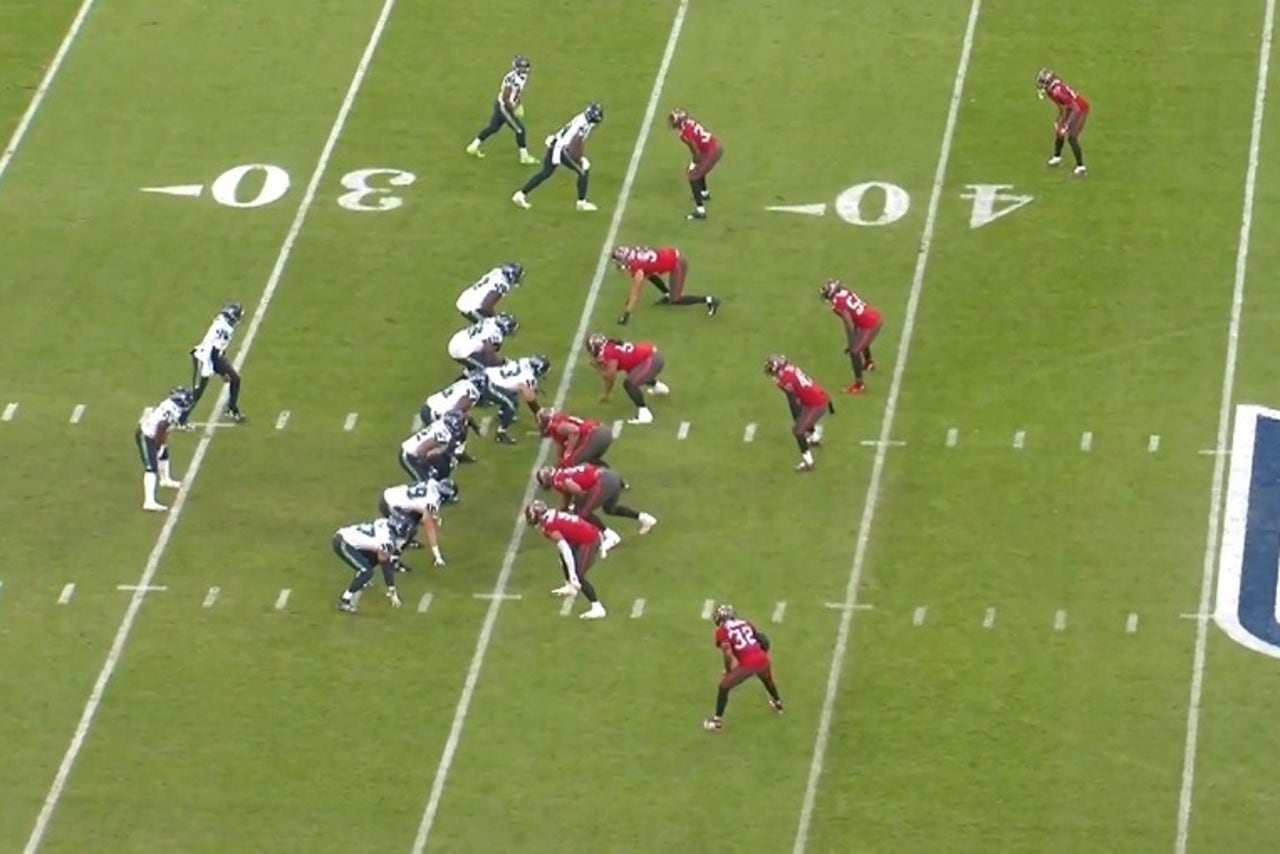 This shot from the Bucs-Seahawks matchup in Munich in Week 10 shows the double-TE look that Seattle used more often than any other team last season.
Some of that disparity might just be the specific personnel of last season. Two years earlier, when the Bucs had Rob Gronkowski, they were eighth in the league in 12 personnel usage at 32%, still behind the Seahawks at 38% but closer.
Another way to look at it: If you look at 2022 snap counts, the Bucs averaged 2.73 receivers per play, compared to 1.26 tight ends; the Seahawks were at 2.38 receivers and 1.55 tight ends per play, with much more occasional two-back looks than the Bucs had.
In target distribution, the two teams were close in regard to receivers — Bucs sent 63% of their passes there, compared to 60% for the Seahawks. But Seattle preferred throwing to tight ends (24%, seventh-highest in NFL) over backs (15%, ranking 27th), and the Bucs would rather throw to backs than tight ends (16%, ranking 29th).
If Canales had any intention of continuing this, the Bucs would almost certainly add a veteran tight end to go with second-year pros Cade Otton and Ko Kieft, their only returning tight ends from last year. It's a strong, deep class of tight ends in the draft, but Tampa would have a very young room to add a rookie to Otton and Kieft.
Another curiosity is how the quarterback lined up on first down. The Bucs were in shotgun 50% of the time, under center with a single back 29%. The Seahawks were dead even, with 36% in shotgun and 36% under center with a single back. Seattle was four times more likely to snap with an empty backfield on first down last year — 8%, second-highest in the league behind Arizona, compared to the Bucs at 2%, fourth-lowest. (This might speak to Tampa Bay's heavy commitment to pass protection. The Bucs had the lowest sack rate in the league at 2.9%, while the Seahawks ranked 22nd at 8.0%.)
Pace of play
Here's something interesting, and this could obviously change as the Bucs move from an extremely experienced quarterback to potentially the opposite extreme. These two teams were among the most up-tempo in the league. NFELO has the Bucs running 1.92 plays per minute, using only 27.4 seconds of clock time (both the NFL's fastest) while the Seahawks weren't far behind, ranking sixth at 1.78 pays per minutes and using only 29.4 seconds of clock time (seventh).
Seattle had the second-highest percentage of no-huddle plays last season at 20%, and the Bucs were close behind at 18.7% (fourth).
Third-down playcalling
Generally speaking, both the Bucs and Seahawks had two dominant receivers they leaned on in 2022: Tampa Bay got 2,147 yards and nine touchdowns from Evans and Godwin, while Seattle got 2,081 yards and 15 touchdowns from Tyler Lockett and DK Metcalf. Even the targets and catches are comparable: 269 targets and 181 catches for Evans/Godwin, 258 targets and 174 catches for Lockett/Metcalf. The combined catch rates are both .673, within a thousandth of each other.
One curious difference is on third downs, and how often they threw to those top two targets. Seattle got 60% of their third-down passing conversions on throws to Lockett (17) and Metcalf (12) while no other offensive player caught more than four third-down conversions all season. The Bucs, however, moved the ball around a lot. They had 55 more third-down passes than Seattle, but only one more conversion between Godwin (16) and Evans (14). Those two accounted for just 39% of third-down conversions, with four other Bucs (Russell Gage, Otton, White, Scotty Miller) getting at least five conversions.
So while the two offenses had very similar conversion rates on offense, they went about it different ways. Look at third-down extremes (short and long) and Seattle was better in both. The Bucs went 0-for-41 in third-and-11 or longer while the Seahawks had four such conversions (ranking 12th in success rate). And on third-and-1, Seattle ranked eight spots higher in converting 69% of those short-yardage situations, compared to 61% for Tampa Bay.
The 2023 Bucs offense will be neither the 2022 Bucs nor the 2022 Seahawks, but it should have influences from both, using the personnel and their strengths and weaknesses that Canales inherits in Tampa and the core beliefs he developed over 13 seasons under four offensive coordinators in Seattle.
Greg Auman is FOX Sports' NFC South reporter, covering the Buccaneers, Falcons, Panthers and Saints. He is in his 10th season covering the Bucs and the NFL full-time, having spent time at the Tampa Bay Times and The Athletic. You can follow him on Twitter at @gregauman.
Top stories from FOX Sports:
FOLLOW
Follow your favorites to personalize your FOX Sports experience
---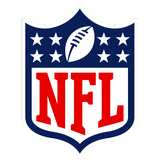 Get more from National Football League Follow your favorites to get information about games, news and more
---