By Richie Zyontz
FOX NFL Lead Producer
Editor's Note: Richie Zyontz has been an NFL producer for FOX since 1994 and the lead producer for the last 20 seasons. He has more than 40 years of experience covering the league and has produced six Super Bowls. Throughout the 2022 NFL season, he will provide an inside look as FOX's new No. 1 NFL team makes its journey toward Super Bowl LVII.
Certain rivalries in sports tend to conjure up wonderful images.
The Dallas Cowboys and San Francisco 49ers absolutely qualify. They have a long and lustrous playoff history.
From quarterbacks Roger Staubach and John Brodie matching wits in the early 1970s to the outstretched arms of Dwight Clark making The Catch in 1982. From the 1990s when Joe Montana (or Steve Young) and Jerry Rice squared off against Troy Aikman, Michael Irvin and Emmitt Smith to the present day. This matchup makes fans (and network executives) giddy with anticipation.
The NFL playoffs are when stars are truly on display. Sometimes they shine and sometimes they don't. When they do, our cameras are all over it. It's the 'don't' scenario that requires particular focus and diligence from those of us sitting in television trucks.
When stars don't play up to their billing, it's incumbent on us to explain and illustrate why.
Revisionist history
Vikings receiver Justin Jefferson showed us one example last week against the New York Giants. How the Giants would defend the brilliant young wideout was a top storyline going into the game. In the first half he was active, targeted six times. But those opportunities dried up down the stretch.
Revisionist history is undefeated, so I beat myself up all week for under-covering that crucial aspect of the game. We didn't capture it enough. And that's on me.
Excuses are easy — 'there was so much else going on,' 'the teams were playing fast.' I could go on and on.
But that remains my lingering regret off an otherwise excellent game and telecast.
This week, with so many high-profile players on both sides, I was determined to not let that happen again.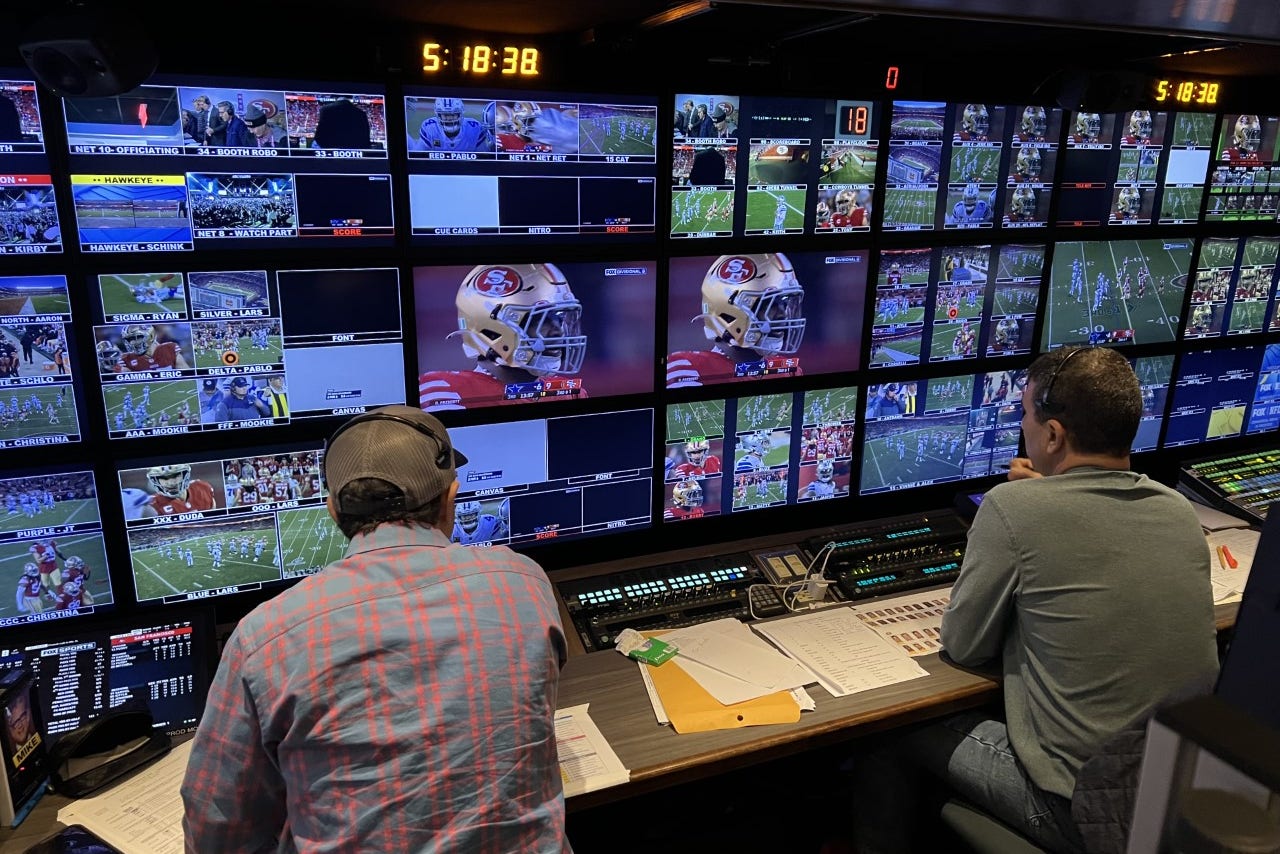 Richie Zyontz (left) and Rich Russo (right) in the FOX broadcast truck during Sunday's Cowboys-49ers game.
Stars on display
Dak Prescott, CeeDee Lamb, Micah Parsons, Joey Bosa, George Kittle, Deebo Samuel, Christian McCaffrey. What a collection of talent! We had a real array of larger-than-life camera magnets gathered on the same field. But every good story needs a Cinderella, and San Francisco rookie quarterback Brock Purdy has played the part well. In meeting with him this week, he didn't betray any signs of nerves or awe. In a soft spoken way, he was relaxed and confident, similar to how I remember a young Joe Montana early in his career.
Relax, I'm not saying he's Joe Montana. But a case can be made for a similar temperament. We covered Purdy's first game, a resounding victory over Tom Brady and Tampa Bay. He played like a veteran. The shot of his tearful dad might be our favorite picture of the year.
On Sunday, with Montana watching from the stands, Purdy again showed great poise and held his own against a swarming Dallas defense. This Cinderella story will continue on for at least one more week.
Follow the stories
Rarely is a kicker the opening topic in our Saturday production meeting, but there's a first time for everything. In light of Brett Maher's nightmare performance last week in Tampa when he missed four Cowboys extra points, we discussed how we would handle his first kick of the day. We knew it would take discipline on the part of the booth and the truck to anticipate and cover the beleaguered kicker's first attempt. And it did.
After tight end Dalton Schultz scored a touchdown, we didn't show any replays, instead focusing on Maher coming on the field for the extra point. This might have been the most anticipated extra point in NFL history. And when the kick was blocked, the poor guy missed his fifth in a row!
I felt awful for Maher but proud of the crew, as we executed the discussed plan to a tee.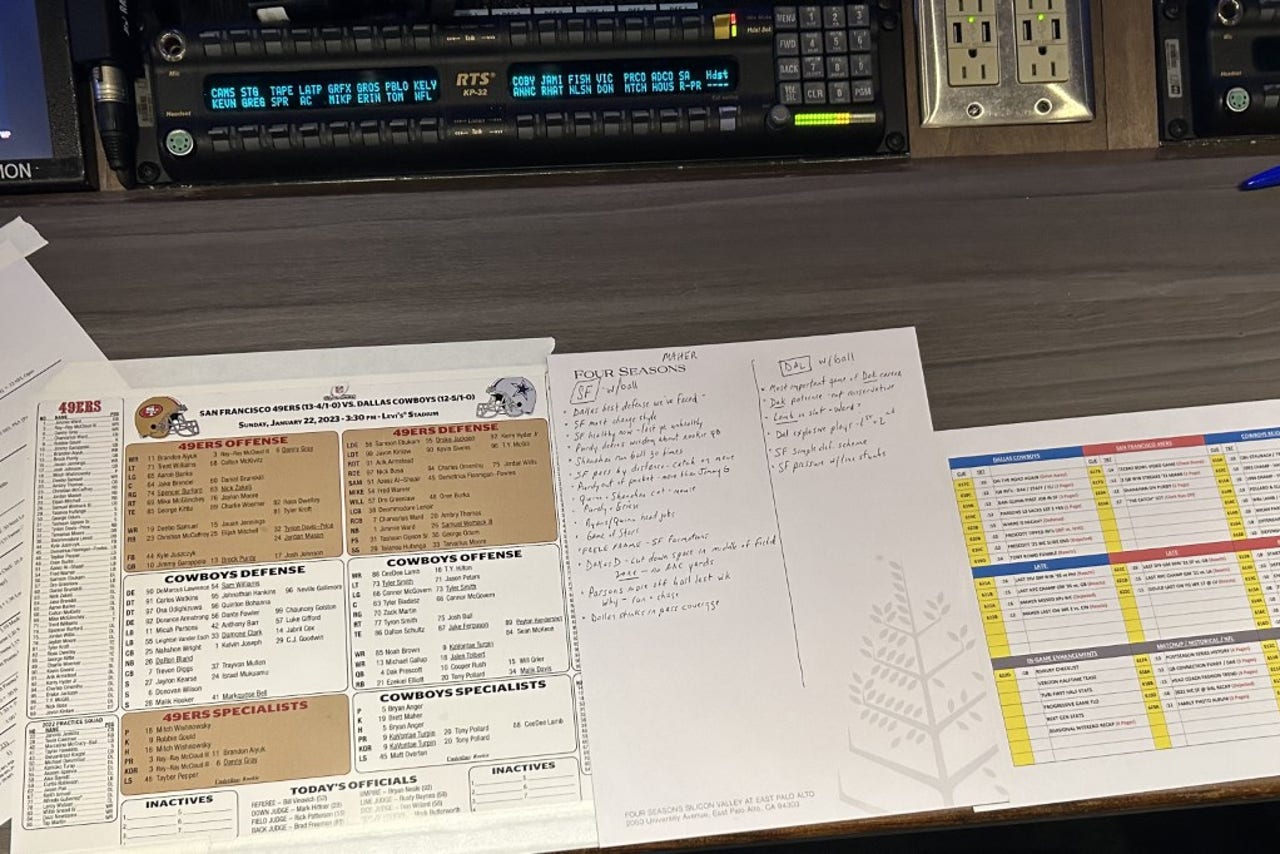 Richie Zyontz' notes ahead of Sunday's Cowboys-49ers game.
Camera magnet
Sometimes there are shots you can't plan for. With San Francisco's colorful tight end George Kittle, we've come to expect the unexpected. In addition to making the catch of the day, Kittle provided the shot of the day. When I discuss camera magnets Kittle is the poster child. With our Skycam hovering above the 49ers huddle, Kittle glanced up at the camera and made a ridiculous face. Here he is, in the heat of a very intense playoff game, and he can't help but have fun. Just awesome!
Intensity
This felt like a throwback game. Throughout the telecast, we showed memorable clips from a storied rivalry. Our video editor Victor Gonzalez, working out of his Charlotte home, put together my favorite piece of the day. We call it Old and New; images of players from today and yesteryear woven into a brief montage. Brilliant!
While lacking in points, the game compensated with an intensity felt from even before the opening kickoff.
As Maher was attempting to warm up, San Francisco wide receiver Deebo Samuel invaded his space, causing a bit of an altercation between several players and coaches. I've seen many examples of icing the kicker but never two hours before the game.
Had the Dallas kicker not been a story coming into the game, our cameras might not have been following his every move in warmups. Instead, Tom Rinaldi adjusted the content of his pre-kick report and we were able to show that video before the opening kickoff.
This really set the stage for a hard-hitting, nail-biting playoff tilt. The 49ers held on to win 19-12 and will now head to Philadelphia with a trip to the Super Bowl on the line.
My stomach is already churning for what should be a classic.
Top stories from FOX Sports:
FOLLOW
Follow your favorites to personalize your FOX Sports experience
---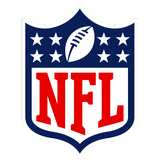 Get more from National Football League Follow your favorites to get information about games, news and more
---
---
Source